Being a remodeling contractor is a challenging profession. When a contractor starts a remodeling job, they don't always know what they will run into during the project. Once the job is started, they not only have the expectations of their client to meet, but they also have to meet them under an often tight timeline. This is the kind of dilemma that lead to the creation of the Deck Demon.
Jon Nolle knows the struggles contractors face, as he's a contractor himself. In his years of experience, he's seen how crucial it is to get the job done quickly, efficiently, and safely. But he's also seen how the demolition tools most contractors use just aren't able to perform as well as they need to, which is why he decided to make a deck board removal tool of his own.
To illustrate just how effective this intuitive tool is, we talked with Jon Nolle and had him explain a few of the (many) ways that the Deck Demon has become one of the very best demolition tools on the market and what inspired him to create it in the first place.
The Story Behind the Deck Demon
Jon Nolle created the Deck Demon "out of necessity." As a building and remodeling contractor, Jon and his team were getting jobs pulling up tens of thousands of linear feet of decking and needed a better way to do it.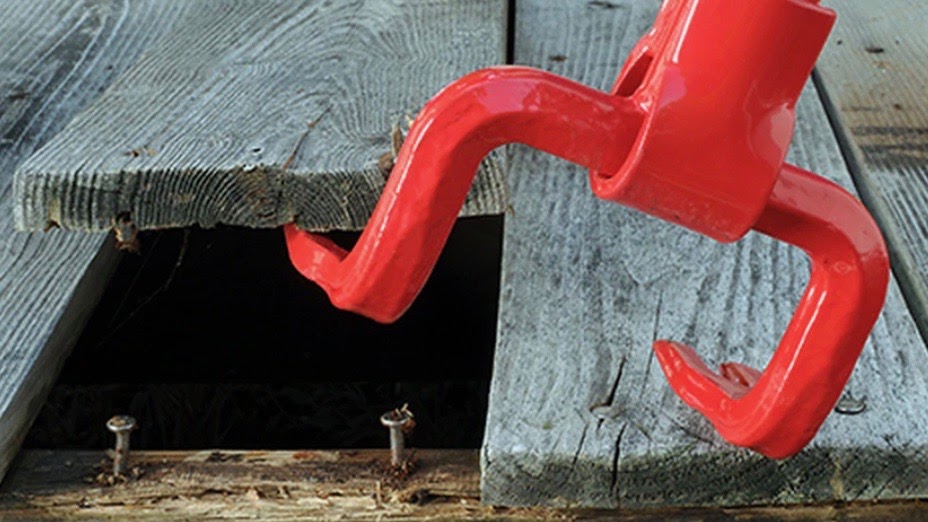 Traditional tools meant getting down on your knees and using crowbars, hammers, and anything else you had on hand to pull up nails and planks. It was tiresome and slow, and in an industry where speed and quality are of the utmost importance, Jon decided that he had had enough of the "old way."
So, after going to the store and buying multiple crowbars off the shelf, Jon created the first prototype of what would eventually become the demolition tools known as the Deck Demon and Wrecking Claw. After cutting the crowbars he purchased, he experimented and welded the pieces together to make a tool that hadn't been seen before.
Right away, Jon could see that this new invention was far better equipped to meet the needs of deck demolition contractors, and it didn't take long before he started turning it into a sellable product. Making it longer than crowbars, keeping it an all-steel construction, and a grip inspired by the kind of sweat-proof handles used in the exercise equipment industry, the Deck Demon has won multiple retailer and industry awards and continues to be one of the go-to demolition tools.
However, despite holding the patent for the Deck Demon and its consumer-grade counterpart, Jon doesn't consider himself an inventor. "I'm an innovator, not an inventor. I didn't invent the crowbar," he says. "I just rearranged it into a way that works best for deck removal."
Better, Smarter, and Faster Deck Board Removal
When you have the Deck Demon included on your demolition equipment list, you'll unlock a smarter, better, and ultimately, faster way to tackle a deck board removal process. Deck board removal can be a tricky business, and Jon knows firsthand how vital it is to have the right tools on hand to make sure the job goes smoothly.
So, when you and your team use the Deck Demon, a single contractor can strip a 10'x10' deck within a half-hour. This doesn't include the time it takes to apply the new boards, of course, but with the crowbars and hammers of old, the deck board removal process alone could take half a day. But no longer!
Here's just a glimpse into some of the jobs the Deck Demon and Wrecking Claw can help streamline:
Removing decking boards faster (and safer) than ever
Breaking apart old wooden pallets and skids
Disassembling a dock
Wood strapping removal
Roof board replacement and repair
Lifting floor (or subfloor) planking
Stripping wood pickets off of a fence
Prying up any type of fasteners
The Deck Demon is one of the best demolition tools out there. It's durable (thanks to its 100% steel design; you won't find any fiberglass or breakable parts here), adaptable to the needs of the job, and created by a contractor for contractors. Are you ready to learn more about how this deck board removal tool can help you? Get in touch with us today!